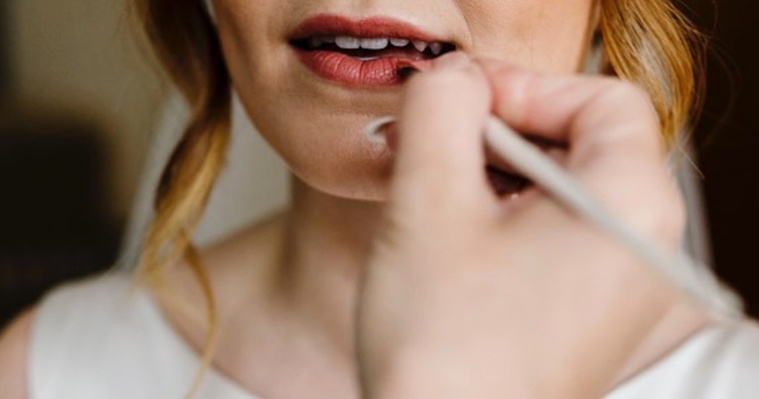 The Bridal Service
Your wedding day is probably going to be one of the most important and amazing days of your life, with that in mind you will want to look and feel at your most beautiful from the moment you reach the aisle, until the last dance (or the next morning in some cases!). My aim as your Bridal Artist is to not only make you look this way but you ensure that your are feeling amazing and I pride myself knowing that the service I will provide you with is one which will be stress-free from start to finish, even on the most chaotic wedding day!

Products
Throughout my working career I have been lucky enough to work with so many different brands and products. I use luxury cosmetic products for my bridal work and products often used in the industry, including Nars, MAC, Bobbi Brown, Illamasqua, Charlotte Tilbury and a whole array of tricks, tips, lotions and potions that will leave you ready to enjoy your day in the spotlight..
I truly believe there isn't one brand out there that suits everybody. This is why I use many different brands, high end and high street to ensure that I am providing you with the best possible Bridal Makeup application.
All products that I use have been tested for longevity and will be applied to last throughout your day.
And a question asked regularly.. Yes I do use waterproof mascara!
The Wedding Day
On the morning of your wedding I will arrive at the agreed time to your venue (house, hotel, or other venue) and I will be there to help you be relaxed on your special day.
After working with so many brides, more often than not, your Bridesmaid or Mother is worrying about getting the lacing perfect on your dress (it's harder than it seems!). I am experienced with lacing dresses so I am more than happy to help with this, but of course I will not step on anybody's toes if you prefer your bridal party to help with getting you ready.
I will also be on hand to fix your veil, tiara or any other accessories in place and I will stay with you for those all important final touches of lippy and powder.
A couple of extra details that I have picked up along the way which may be useful to you:

Buttonholes...men on the left, women on the right.
Cars..they are always super early so no panicking that you are late!
Garters.. (traditionally) worn on the right leg.

Flowers..tend to always turn up later on in the morning so don't panic that they aren't arriving.